There are many colleges and universities out there. Now is the time to see what is available and what you might want to pursue.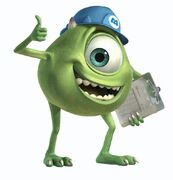 For those of you who are interested in science, engineering or scaring...
Monsters University
may be the place for you!
This just shows what a little creativity, a lot of patience, attention to detail, and computer knowledge can do.
My cousin Dave is a Technical Director at Pixar, and of all his movies, Monsters Inc. is my all time favorite! Now I'm looking forward to the latest Pixar creation... Monsters University.
Check out the Monsters University website by clicking on the crest above. Then, let me know what you think!